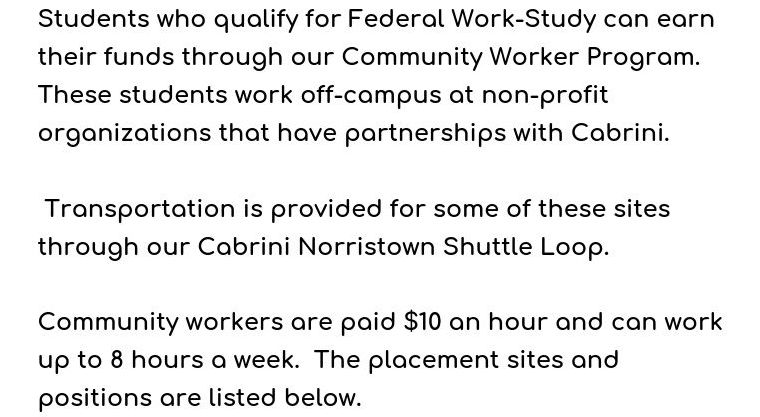 * Please Note *
Due to COVID-19, our community partners are not accepting volunteers.
Community Worker Placements & Positions –
Norristown Loop ~ 2020-2021
Martha's Choice Marketplace -Pantry Worker
353 East Johnson Highway Norristown, PA 19340
Martha's Choice is a food pantry sponsored by the Archdiocese of Philadelphia provides clients with dignity, hope, and opportunity through choice.
Supervisor: Patrick Walsh pwalsh@chs-adphila.org 610-279-7372
Hours: Monday and Wednesday, 9 a.m–4:30 p.m. and/or Thursday 8:30 – 7 pm
Must be able to lift and load boxes weighing 20lbs or more.
Coordinated Homeless Outreach Center (CHOC)
1001 Sterigere St. Norristown State Hospital, Building 9 Norristown, PA 19401
The Coordinated Homeless Outreach Center (CHOC) is the County Homeless Shelter that serves homeless individuals or couples without children from all areas of Montgomery County.
Supervisor: TBD
Hours: Day and evening, flexible
Job Description: Students will assist with case management by helping clients use computers and navigate the Web. Students are also welcome to participate in group discussions every second and fourth Friday.
Patrician Society - Food Pantry
703 Green Street Norristown Pa 19401
"Neighbors Helping Neighbors" The Patrician Society offers a food pantry, summer day camp, and assistance with housing, utility and medical bills

Supervisor: LeeAnn Rooney 610-272-6316 leeannrooney@patriciansociety.org
Hours: 8:30 to 4:30 Monday thru Thursday 8:30 to 3:00 Friday
Job Description: food pantry worker -Tuesday and Thursday 12 to 3:30
Laurel House -Marian's Attic
139 East Dekalb Pike, King of Prussia

Supervisor: Pattie Ceithaml 610-337-3068 pceithaml@laurel-house.org
Job Description: Located in King of Prussia, Marian's Attic is an upscale resale shop. The boutique-style shop has a wide selection of clothing, jewelry, accessories, and small household items. All proceeds go directly to support our domestic violence programs.
Hours: Monday –Saturday 10:00 am-5:00pm - Thursday – 10:00am-8:00pm
Responsibilities Include:
Receiving and organizing donations, steaming clothes/ polishing shoes, grouping items by size/color/season, assisting employees as needed.
*Students would be asked to work a shift from 10:00-1:00 OR 1:00-5:00 (with some room for flexibility.)
Gotwals Elementary School
1 E Oak St, Norristown, PA 19401

Supervisor: Ms. Jeanette Fernandez, Principal jfernandez@nasd.k12.pa.us
610-630-5000
Job Description: Assist classroom teachers as needed during the school day.
Hours: Monday – Friday 8:30-3:00 (volunteers have the flexibility to arrive &/or leave during these hours)
Radnor Elementary School (NOT on shuttle loop)
20 Matsonford Rd, Wayne, PA 19087

Supervisor: Dr. Anthony Stevenson (anthony.stevenson@rtsd.org)
610-788- 9300
Job Description: Assist classroom teachers as needed during the school day.
Hours: Monday – Friday 9:00-3:45 (volunteers have the flexibility to arrive &/or leave during these hours)

Radnor Memorial Library (NOT on shuttle loop)
114 W Wayne Ave, Wayne, PA 19087
Supervisor: Anny Laepple, Executive Director alaepple@radnorlibrary.org
Phone: 610-687-1124
Job Description:
-Helping to maintain shelves
-Clerical work
-Assisting the Friends of RML with book sale preparations
-Assisting at library programs